wow- it has been a week+ sorry- lots of long days and busy evenings. One of my New Year goals was 3 posts a week.
We've lived in our house for close to a year and done all the major-must-be-fixed-ASAP projects. Now we are (slowly) starting to furnish, organize and decorator. I'm attempting to go a room at a time. I don't know if this is how you are supposed do it, but for my sanity

(aka stress level)

, John's patience, health of the bank account, that is how we are starting. (How do you do it?) So get ready for lots of "what do you think?" posts.
While we are technically working on the den right now

(more to come)

, I have a few side projects I'm working on. One baby project is the kitchen nook- thanks for all your opinions on the dresser, I'm just waiting for the hardware to come in...then I'll do the revel.
My other side project is our "entry-way". We don't really have an entry way, you just walk into the living room. But the lack of organization has been making me crazy. After finally getting ride of an old love-seat we have space for a console table.
At first I was thinking a white table would be nice contrast against the walls

(MS Driftwo

od Gray)

but for the life of me I can't find a true

(not cream, or antique)

white console table. My next thought was glass , so it would take up less visual space. But then I found a dark wood piece in a style I really like

(yes, I thought of painting it but Someone-else doesn't like that idea)

. Now I'm stuck!!!! Please give me your thoughts!
Messy Current room on a rainy day:
As you can see we already have some dark items in the room (chair, mirror, coffee table, blinds) and whites accents too (lampshade, trim, mantel, curtains, kindof the couch), and I thought another white (or glass) piece would help with the brightness effect.
The Dark Horse: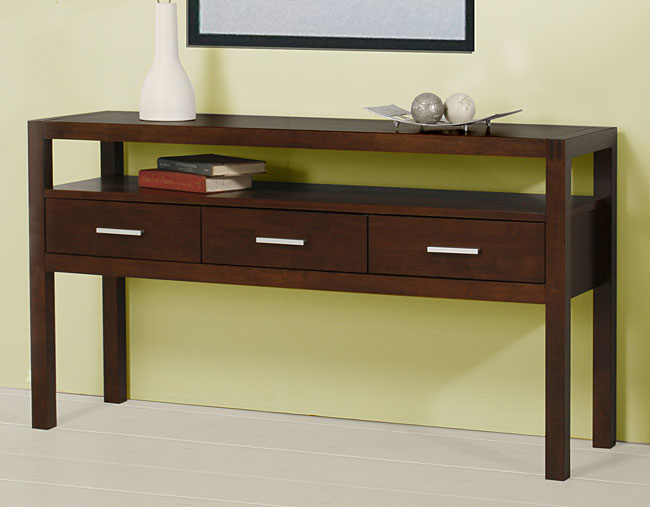 The Glass House: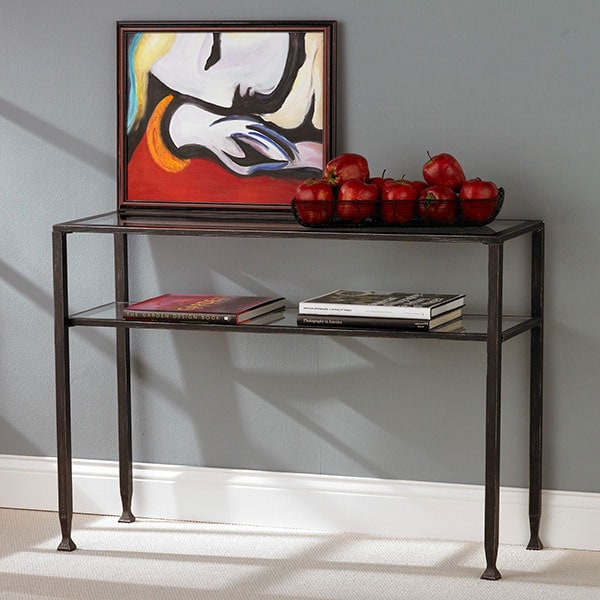 My current thought is that the new coffee table

(our current one is a woven bench that a dog snacked one- great for storage but less and less attractive, and not a true coffee table)

could be the opposite, or even white, finish than the console table.
**It would be great if the coffee table/bench fit under the console table so we wouldn't lose the blanket storage.